What's the first thing that comes to mind when you hear "demons"?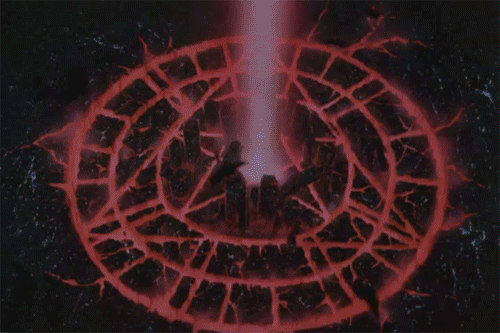 What I automatically think of is Shadowhunters. They're a race of humans born with angel blood and are known to be demon-hunters.
I've said this a lot, but I really do LOVE the Shadowhunter books!😍 Right now, I'm doing a reread of Lady Midnight and impatiently waiting (along with everyone else) for Chain of Iron. AHHhh I can't wait to see what happens!!!😫🤩
Anyways! I have a few recs for anyone looking for some other demon-y (I know that's not a word xD) books.
𝓛𝓮𝓽 𝓽𝓱𝓮 𝓓𝓮𝓶𝓸𝓷-𝓗𝓾𝓷𝓽𝓲𝓷𝓰 𝓫𝓮𝓰𝓲𝓷!!!
~~~~~~~~~~~
White Hot Kiss is the first book in The Dark Elements trilogy. This is by one of my favourite authors—Jennifer L. Armentrout—and has the whole Angel vs Demon trope. You'll definitely fall in love with Roth once you meet him.😏😉
Beware though, for he is a demon with many secrets…………
.
.
.
.
~~~~~~~~~~~
Ah yes, this my friends is the spin-off series for The Dark Elements.
Storm and Fury is the first book in The Harbringer trilogy and wow……..so much has happened, especially in the 2nd book, Rage and Ruin.
Grace and Glory is set to come out in June 2021 and after that HUGE cliffhanger in the 2nd book…..well maybe it's best to say that it really left me shook. I can't wait to see what happens in the last book!
.
.
.
.
~~~~~~~~~~~
Next up, we've got Hex Hall by Rachel Hawkins!
Ahh, this one was more of a comedy young adult fantasy novel xD. It's a world where being a vampire, werewolf, warlock/witch (etc..) is definitely not normal and for teens who develop these strange powers…..well, they're sent to Hex Hall, known to the outside world as a school for naughty teenagers.
In reality, it's a school filled with abnormal creatures who are taught to use their powers and not cause trouble in the outside world. Sophie, of course, wants to get out as soon as possible, but strange events call her to take some action………
.
.
.
.
.
~~~~~~~~~~~
OMGGG I SERIOUSLY CAN'T WAIT FOR THIS TO COME OUT!!!!😍😍😍
To anyone who loved Kerri Maniscalco's Stalking Jack the Ripper series…….well, she's writing another series that's going to have witches and Princes of Hell.🤩🤗
I'm so excited for Kingdom of the Wicked! I loved Stalking Jack the Ripper, especially Thomas.🥺🥰 I know for sure that I'd sell my soul to read this series and meet Wrath.
This comes out October 27th, 2020 (5 days after my birthday!!!) and I'm ready to fall in love with these new characters, although I will always miss Thomas and Audrey Rose.💖
.
.
.
.
~~~~~~~~~~~
That's all the demon-hunting I can get for today!😈
𝕋𝕖𝕝𝕝 𝕞𝕖 𝕒 𝕕𝕖𝕞𝕠𝕟-𝕪 𝕓𝕠𝕠𝕜 𝕪𝕠𝕦 𝕝𝕠𝕧𝕖 𝕠𝕣 𝕒𝕣𝕖 𝕖𝕩𝕔𝕚𝕥𝕖𝕕 𝕥𝕠 𝕣𝕖𝕒𝕕? 𝕀 𝕔𝕠𝕦𝕝𝕕 𝕒𝕝𝕤𝕠 𝕤𝕥𝕠𝕔𝕜 𝕦𝕡 𝕤𝕠𝕞𝕖 𝕣𝕖𝕔𝕤.😏
𝕃𝕖𝕥 𝕞𝕖 𝕜𝕟𝕠𝕨 𝕕𝕠𝕨𝕟 𝕓𝕖𝕝𝕠𝕨!🖤